Frisella Nursery Wholesale Portal
Welcome to the Frisella Nursery Wholesale Portal!
Our wholesalers have access to exclusive content, priority access to sales, can learn about our featured specimens, and download our latest plant guides.
Farm Direct Volume Pricing
At Frisella we offer volume discounts on tree orders of 25 or more. Only the trees listed in our 'Farm Direct' program are eligible for this discount & availability may change without notice due to customer demand or natural causes beyond our control. ALL wholesale Terms & Conditions apply.
Exclusive Frisella Nursery Wholesale
Articles and Industry News
Malus (apples & crabapples) – is a genus with a wide variety of species, varieties, and cultivars. Plants in this genus are generally very susceptible to a wide variety of pests and diseases including but not limited to: fire blight, scab, cedar-apple rust, aphids, etc.
Frisella Nursery is the ultimate destination for Japanese maples in the St. Louis area! Every year we hand select the best specimens from the country's premier growers in Oregon and Washington. As of spring 2022 Frisella has over 60 cultivars in stock! Contact our garden center for more information. 636-798-2555 (option 4)
The dormant season is the best time of year to prune most trees because many diseases and insects that can potentially invade pruning cuts are also dormant. That being said, mechanical damage and improper tree care is often the main culprit for tree death. Here are some things to avoid killing your trees.
Specimen Spotlight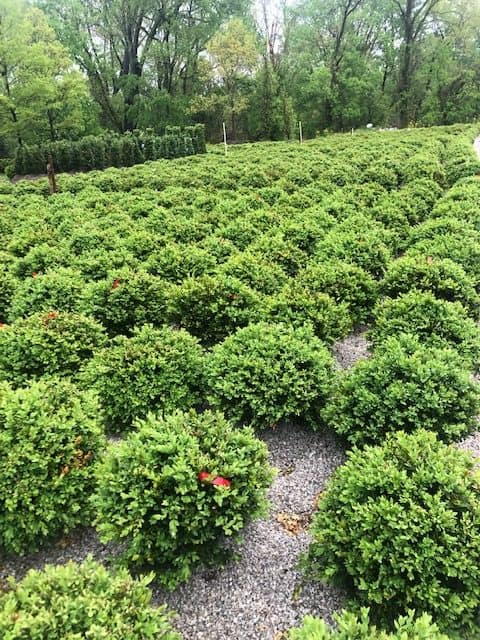 MAY 2022
'Green Velvet' boxwood
Buxus 'Green Velvet'
Green Velvet Boxwood will grow to be about 3 feet tall at maturity, with a spread of 4 feet. It tends to fill out right to the ground and therefore doesn't necessarily require facer plants in front. It grows at a slow rate, and under ideal conditions can be expected to live for approximately 30 years.