Frisella Nursery Wholesale Portal
Welcome to the Frisella Nursery Wholesale Portal!
Our wholesalers have access to exclusive content, priority access to sales, can learn about our featured specimens, and download our latest plant guides.
Farm Direct Volume Pricing
At Frisella we offer volume discounts on tree orders of 25 or more. Only the trees listed in our 'Farm Direct' program are eligible for this discount & availability may change without notice due to customer demand or natural causes beyond our control. ALL wholesale Terms & Conditions apply.
Exclusive Frisella Nursery Wholesale
Articles and Industry News
The safest time to prune oaks is during winter, so avoid pruning or wounding the tree between mid-March and late June. During this time of year, insects such as leaf hoppers and spittlebugs can carry Bacterial Leaf Scorch (BLS) from tree to tree. They are attracted to the sap which flows freely from wounds.
Malus (apples & crabapples) – is a genus with a wide variety of species, varieties, and cultivars. Plants in this genus are generally very susceptible to a wide variety of pests and diseases including but not limited to: fire blight, scab, cedar-apple rust, aphids, etc.
Frisella Nursery is the ultimate destination for Japanese maples in the St. Louis area! Every year we hand select the best specimens from the country's premier growers in Oregon and Washington. As of spring 2022 Frisella has over 60 cultivars in stock! Contact our garden center for more information. 636-798-2555 (option 4)
Specimen Spotlight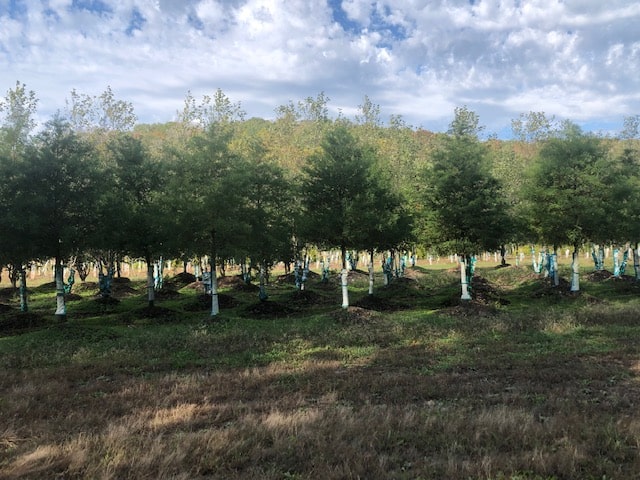 JUNE 2022
Baldcypress
Taxodium distichum
Baldcypress is a deciduous tree with a strong central leader and a distinctive and refined pyramidal form and will grow to be about 70 feet tall at maturity, with a spread of 30 feet. Good selection for growing in wet soils either in low spots or near water.
Frisella has a great selection of baldcypress ranging from 3.5 – 5″ available!